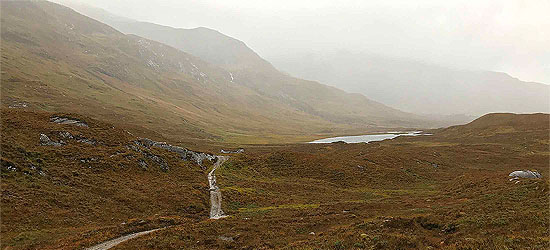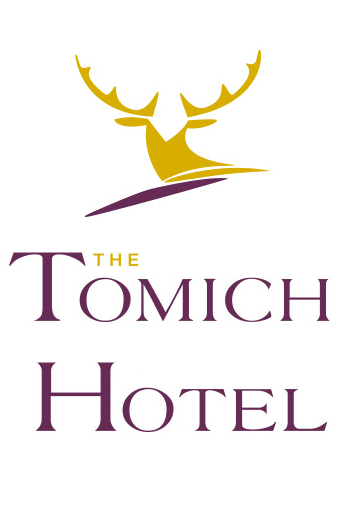 0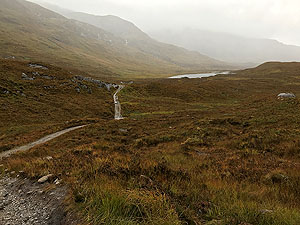 Route summary
The Loch Affric loop route is a trail and forest road run within North & Grampian. The loop covers a distance of
17.58 Kms ( 10.92 miles )

and has an elevation gain of

345 m ( 1132 feet )

.
Description
A tremendous running route around Loch Affric in one of Scotland's most beautiful areas. The first half of the route on the north side of Loch Affric offers some technical running while the second half is on well made.
On leaving the car park the forest road takes you alongside the river towards the Affric lodge. This is a nice easy part of around
1.6 Kms
which ends when you arrive at one of the gates to the lodge grounds. A signpost points the way to the trail style path that goes around the lodge grounds before bringing you back onto the main path. From here the best of the route awaits including the chance to catch sight of golden eagles.
The north side route seems to contain every variety of trail and you have a few small fords to cross so expect to get wet feets. Parts can be slippy and difficult to run so extra care is required. This section has most of the elevation of the route as well. However, this is a really wonderful area to be in and it can at times take your breath away just by it's beauty.
At
8.9 Kms
you arrive at the main Affric-Kintail trail and from here the path starts to improve in quality. A small bridge takes you over the river and you get to enjoy a whole new perspective of the wonderful views. There is a large ford just after the river crossing but a small footbridge is available to the left of the ford, about
30 away.
After
10 Kms
we start to climb again although there are some short downhills along the way. You will soon reach the fork in the trail where a left takes you downhill and across the bridge back to the car park.
Route directions
1
From the car park head towards the main road
---
2
Turn left going down the dirt road with the river to your left
---
3
At the Affric Lodge gate take the signposted path on the right
---
4
On reaching the main path turn right away from the lodge
---
5
On meeting the Affric-Kintail trail turn left
---
6
Take the small path on the left to cross the stream using the small bridge
---
7
Keep left on the Affric-Kintail trail
---
8
Take the path on the left towards the car park
---
10
And back at the car park
---

Car park area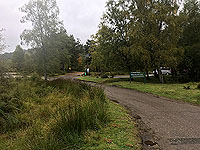 Loch Affric car park

Car park area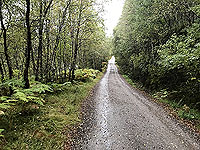 Start of the forest road towards Affric lodge

Path around the lodge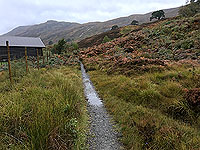 Strat of the trail path

Path around the lodge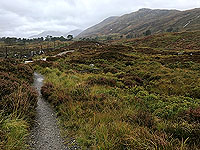 Image from Loch Affric loop

Path around the lodge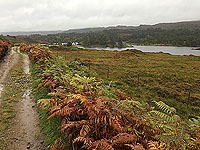 Looking back at Affric lodge

Start of the climb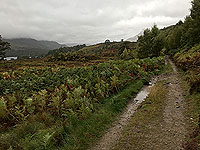 Good quality surface at this point

Start of the climb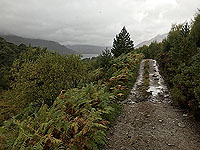 Image from Loch Affric loop

Further along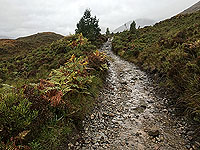 Further along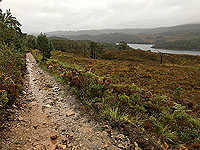 Image from Loch Affric loop

Further along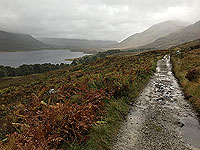 Image from Loch Affric loop

Puddle road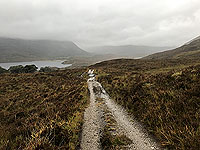 Wet feet

Waterfall view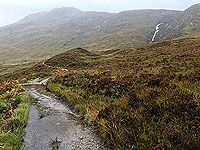 Keep on the lookout for eagles

Waterfall view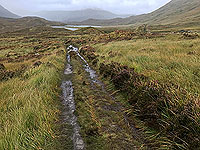 Image from Loch Affric loop

Waterfall view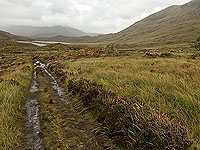 Image from Loch Affric loop

Waterfall view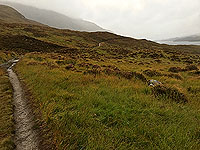 Image from Loch Affric loop

Waterfall view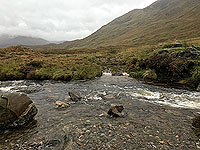 The deepest of the fords to cross

Waterfall view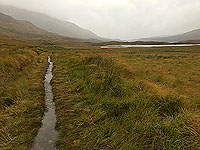 Image from Loch Affric loop

Waterfall view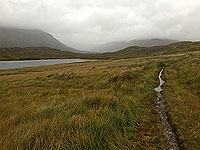 Image from Loch Affric loop

Top of the loch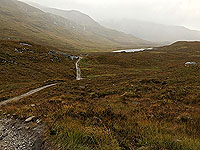 Looking back

Top of the loch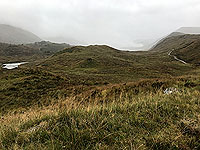 Image from Loch Affric loop

Top of the loch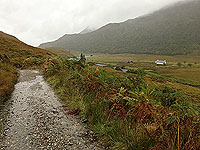 Image from Loch Affric loop

Top of the loch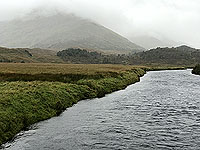 Image from Loch Affric loop

Top of the loch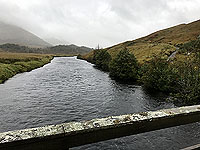 From the bridge

Junction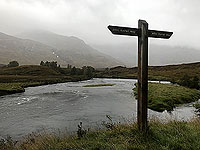 Affric-Kintail signpost

South side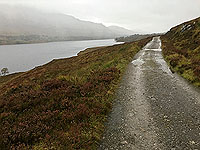 Loch Affric to the left

South side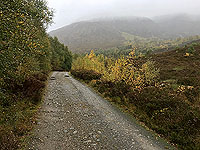 Image from Loch Affric loop

Stone seat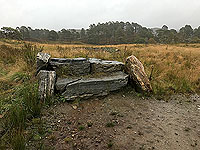 Perhaps too cold to sit on

Final section
Just before turn off to the bridge