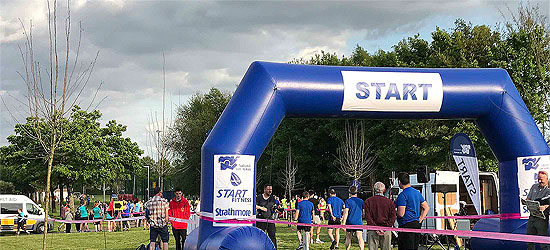 1
0
Cost :
The base entry cost for unaffiliated runners in 2020 was 23 GBP.
When :
The race is held in early June and the last of the three Babcock runs..
Length:
Start :
End :
East end park
Style :
Loop
Size :
700
Usually between 400 to 700 runners.
Elevation :
Max Elevation :
Entry opens
Entry opens at the start of the year.
Website
RACE DESCRIPTION - Dumbarton 10K
Getting In
This is generally an easy race to get into even shortly before the event and entry is available on the Entry Central web site with links from the race page.
Getting there
The town of Dumbarton is about
20 Kms
west of Glasgow and is served by good road, rail and bus links. Dumbarton Eeat station is a short walk to the start line and Dumbarton Central is not far away as well.
Expo
No expo. Numbers are posted, but can be picked up if you are late entering.
Pre-run
Race day
This is usually the second race in the Babcock 3 race series. The first is in Helensburgh and usually the week before Dumbarton. On a sunny evening the Dumbarton race can be a big one and used to have a field size of just under 1000 runners when part of the old Poloroid 10K series.
The start is one the grass and a couple of 90 degree turns required before getting across the line. Once off the short distance on the grass you are on to the walking path heading south east towards Bowling. The race does get a little crowded in this section but starts to open up once the path is running alongside the Stirling road.
Trees give you a lot of shade for this part of the run. At about
3 Kms
the route takes you onto the pavement alongside the busy A82 which combinded with a bit of an incline makes it the worst part of the run. This is only for less than
1 Kms
before a sharp right at the Bowling roundabout takes you back onto the walking path where you eventually retrace your steps back to the start line. You may start passing some of the slower runners on this section as they are heading out to Bowling. The dedication of people to run these races is so impressive.
On the way back the route heads off onto the small roads away from the path, just after Greenhead road. A few turns helps create the distance needed before you Round Riding road and the start of the finish. A couple of sharp left turns and you are heading back towards the start line which is now the finish line.
The finish
Get your medal and goodie bag.
Where to stay
Most hotels in Dumbarton are slightly out of the town centre but given the good transport links there are plenty of options about where to stay.
There are no directions logged for this route. This is normal if the route is a race.

Start and end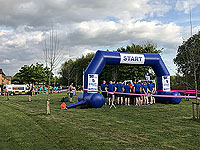 Team picture before race start

Start and end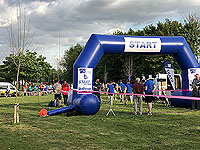 The start and end line