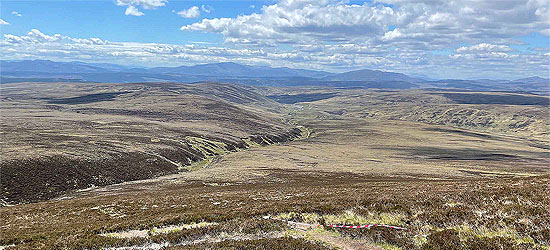 1
0
Cost :
The entry cost for unaffiliated runners in 2021 was 41.50 GBP for the Dearg Up and Doon.
When :
2021 was the first event and held in the first week in June
Length:
Start :
End :
Blair Castle
Style :
Loop
Size :
200
About 180 in the 2021 event.
Elevation :
Max Elevation :
Entry opens
Early in the year
Website
RACE DESCRIPTION - Dearg up and doon
Getting In
No issue with access to the race in 2021.
Getting there
Getting to Blair Castle is easy as it is situated just off the main A9 road from Perth to Inverness.
Expo
No expo. Numbers are collected on the day.
Pre-run
No pre runs, but other events such as a 5k are available.
Race day
In 2021 the first Dearg Up and Doon took place as part of the trail running weekend organised by Outsider events. And the sun shone.
Finding the start line in the car was easy enough and parking was easy. From there to the queue to pick up the number and onwards to the toilets. First race in a long time with plenty of toilets.
The start is in long grass in a field which makes for difficult running for a very short time till you reach the road. That is the least of the worries for the day. The route heads out through the grounds of the castle and generally you are shaded by the trees. Once you leave the tree line that is you out in the open for the rest of the day until you near the finish line.
The route is a gradual climb to about
11 Kms
and from there to
17 Kms
and the top of the hill it is steep. The trail on this part is mainly loose stones so watch out as it can get difficult. The views are great for most of this race
.
The second of the feeding stations was around the
25 Kms
mark which was some way after that advertised for the event. On a hot day this was not a great thing.
Once past the rifle range where people are shooting who knows what you are almost at the end. However, lets get you back into the woods and through all that long grass again before coming to the finish line and a brilliant crowd. We measured nearly
32 Kms
on this event so keep that in mind.
The finish
No medal just a cheer coming over the line. Massage, beer and burgers are all available.
Where to stay
This event comes with a camp site included in the cost. However, there are lots of places to stay nearby.
Route directions
2
Head off in the long grass and follow the well marked course
---
4
Start the big climb to the top
---
5
A u turn and head back down the hill. The top.
---
6
Over the burn then heading back to the finish
---
7
Second food stop on the 2021 run
---

The start and end area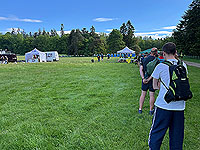 The line up to the signing in tent

The start and end area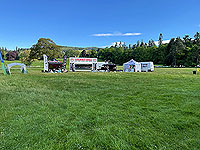 The shopping centre featuring massage, burgers, coffee and beer

The start and end area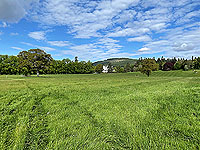 Looking towards the castle

The start and end area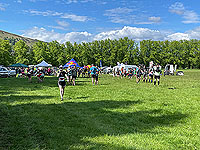 Starting to get busy

The start and end area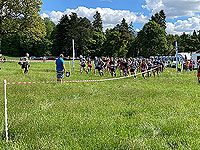 Start of the race

The start and end area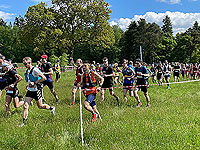 Slow through the long grass

The start and end area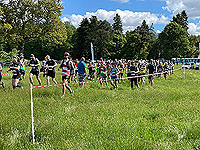 Up to 100 on each wave in 2021

The start and end area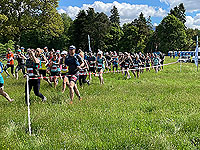 Last of the first wave

Early in the race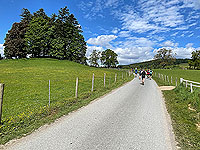 Out on the open road

In the woods near the castle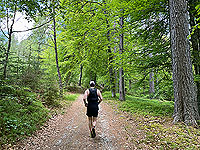 Trails in the wood near the start

Out of the trees and into the open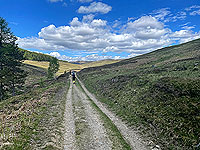 Out into the open

Long gentle climb on dirt road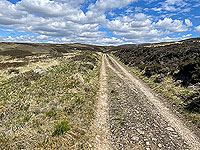 Clear sky and open road ahead

Long gentle climb on dirt road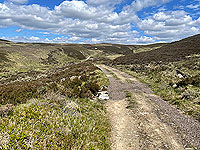 The climb continues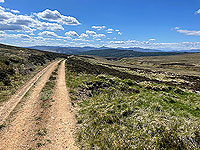 The climb continues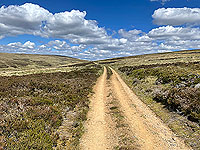 The climb continues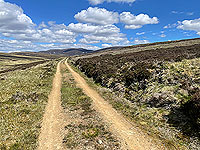 First sight of the main climb

A descent to the first food stop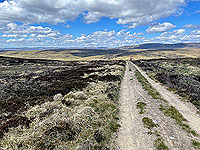 A short section of down hill

A descent to the first food stop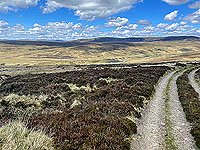 Approaching the first food stop

Getting ready to climb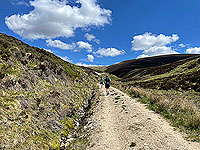 The climb is on

Getting ready to climb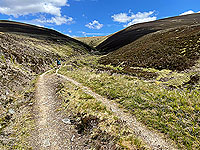 Route is still good quality

Early part of the hill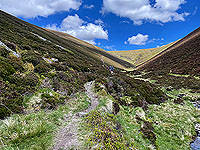 Path turns to loose rock and steeper

Early part of the hill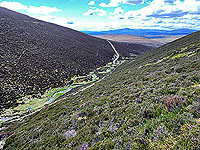 Looking back down the hill

Early part of the hill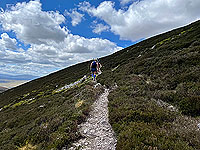 Most are walking at this stage

Early part of the hill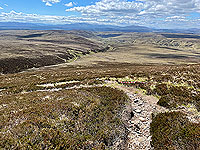 View back down the glen

Early part of the hill
Near the bottom of the hill heading back across the stream

Approaching the top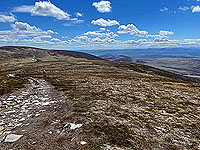 Short flatish section

Approaching the top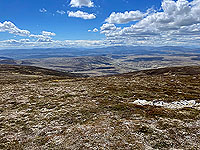 Near the top

Approaching the top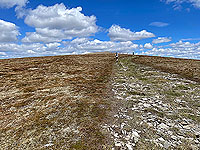 Top is in sight

The top of the hill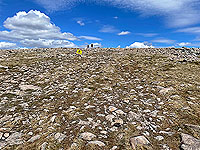 U turn sign at the top

The top of the hill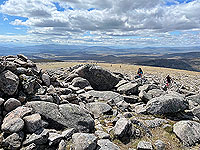 Rubble and rocks on the top

The top of the hill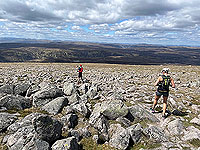 Time for a picture

The top of the hill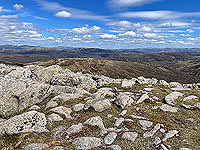 View across the countryside
The long descent back to the finish line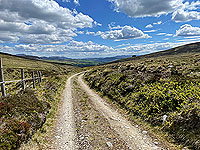 Feels like it goes on forever
The long descent back to the finish line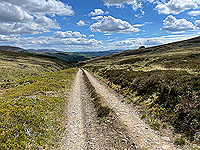 Still going down hill
Into the tree line at last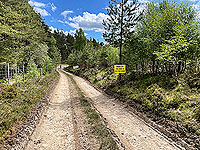 Just after the rifle range