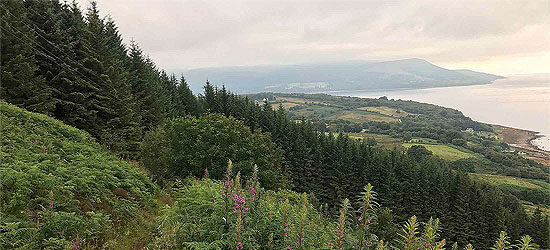 Clauchland hills fort from Brodick
0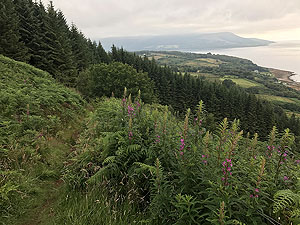 Route summary
The Clauchland hills fort from Brodick route is a trail run within Glasgow, Clyde & Ayrshire. The loop covers a distance of
7.46 Kms ( 4.64 miles )

and has an elevation gain of

214 m ( 703 feet )

.
Description
A short Sunday morning style of route from the centre of Brodick. As we were staying in the Douglas hotel this route starts from the hotel car park. The hotel is easy to spot in the town and sits just across from the ferry terminal.
Leaving the hotel we head up the hill on the main Arran road. This is a short distance of being on a pavement, less than
1 Kms
. You leave the main road taking a small country road on your left and from this point the run does become very nice.
Although the initial part the views are blocked by hedges, these soon open up to give much better views. We didn't seem too bothered with the horse flies on this route as we have been on Arran, but perhaps we just got lucky. This road isn't busy so it does make for some nice running.
Once over a small bridge the road changes to a dirt road from tarmac. This road eventually ends at a small building, Dunfion Bagpipes when we last did the route. The path you need to take is on the right of these buildings, just before you reach them. The route is now trail and you are heading up the hill.
This part is mostly in the trees but once it opens up you are rewarded by some lovely views all around. The old fort is a short distance from the path and clearly marked. From the trig point the views are wonderful across the whole area.
We turned and went back the way the way we came. However, there is a path off the hill towards Clachlands Point and from there a path runs along the beach before heading back inland. At this stage we have not researched if this would make a possible loop, but Arran will be visited again with additional routes added. This was plannned for 2020 but impacted by the virus. If you know this area and the loop route is possible, please let us know and we will update accordingly.
Back to Brodick and the Douglas Hotel. We enjoyed our stay at the Douglas with sitting outside on a sunny day with a glass of beer a nice reward for a day of running.
Route directions
1
Leave from the Douglas hotel
---
2
After leaving the hotel car park turn right on the A841. Heading east.
---
3
Take the small country road on the left
---
4
Take the path to the right of the last set of buildings
---
5
Heading up the steep part through the trees
---
6
Take the path on the left towards the top
---
7
The top. Now retrace your way
---
9
Turn right at the main road back into town
---
11
And finish, perhaps with a beer outside the Douglas hotel
---

On route to Arran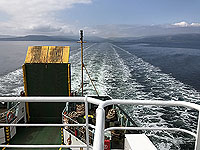 From the ferry

Small country road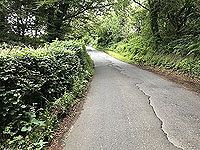 Initially with hedges either side

Small country road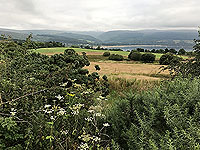 Eventually the views improve

Small country road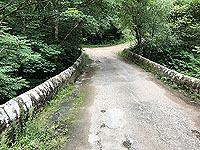 Small bridge

Small country road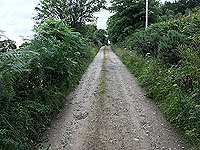 Dirt road

Path through the woods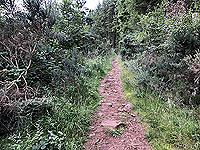 Short steeper section

Path through the woods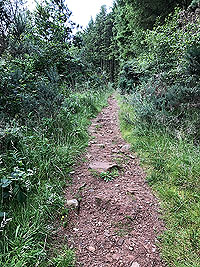 Portrait view of the path

At the top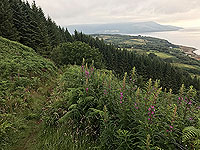 Down the hill towards Brodick

At the top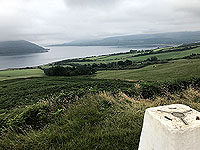 Holy Isle in the distance

At the top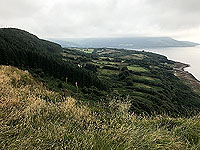 Different view towards Brodick