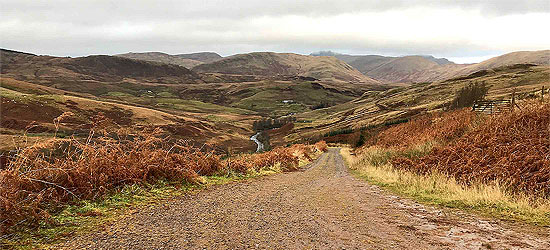 0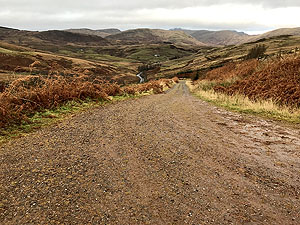 Route summary
The Bracklinn falls run loop route is a trail, dirt road and country road run within Loch Lomond and the Trossachs. The loop covers a distance of
6.15 Kms ( 3.82 miles )

and has an elevation gain of

453 m ( 1485 feet )

.
Description
At
6.2 Kms
in length this fits into the much asked for bracket of shorter runs and is very accessible from the village of Callander. The route takes in the Bracklinn falls and features a great variety of running surface and views.
From the car park cross the road and join the new path heading up to the falls. This is well signposted and the path is very good quality at this stage even if you are going up hill from the start. You soon reach the path from the other car park, the one dedicated to the falls, and the route levels out. After
1.5 Kms
you arrive at the lovely falls themselves. This is a tourist spot so we recommend doing this route early and on a weekday.
On crossing the bridge at the falls you take a left and follow the path up beside the stream. The path turns to proper trail for parts and does get a little bit muddy, but nothing too bad and trail shoes are not required. You are soon into the forst proper and are running on the standard good quality forest roads. Once out in the open the countryside opens up for you and you start a short downhill section towards a small bridge to go over the stream again.
After the bridge you join a tarred road taking a left to go back to the car park. Also on this site is an alternative route that takes a right at the tarred road and leds you out onto a lovely out and back that feels very remote.
Route directions
1
Starting at the car park
---
2
From the car park cross the road taking the path to the Bracklinn Falls
---
4
Take the sign posted path going left
---
6
At the tarred road turn left
---
7
Past the car park for the falls
---
8
And a right into the car park
---
9
And back to the car park
---

Car park area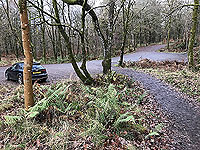 View of the small car park

Car park area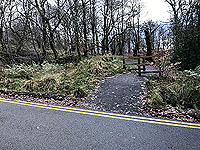 Path starts across the road from the car park

Bracklinn falls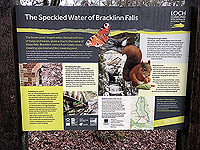 The information sign

Bracklinn falls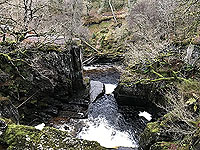 View of the falls

Bracklinn falls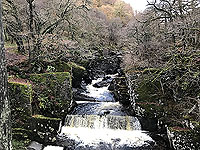 Falls from the bridge

Bracklinn falls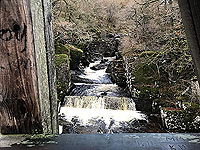 Falls from the bridge number 2

Heading away from the falls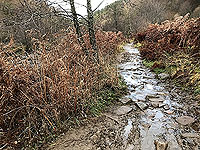 The path can get muddy in parts

Out of the trees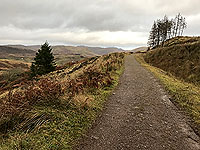 The countryside opens up

Out of the trees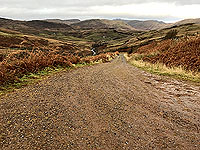 Down hill section

Out of the trees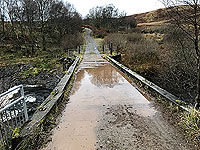 Small bridge before the tarred road

More falls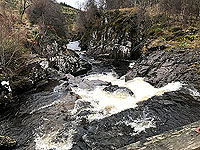 From the wee bridge

Tarred road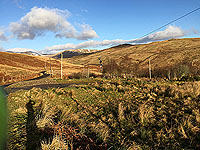 Starting to feel remote

Tarred road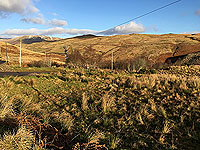 Image from Bracklinn falls loop

Tarred road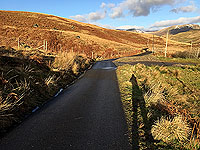 Long winter sunshine shadows