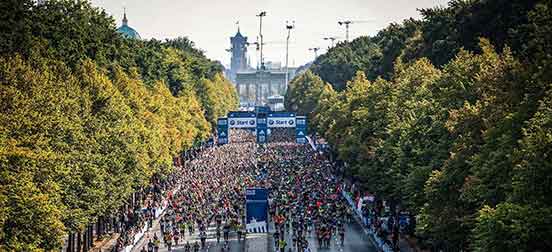 1
0
Cost :
108 Euros
When :
September
Length:
Start :
Strabe des 17 Juni
End :
Strabe des 17 Juni
Style :
Loop
Size :
44389 Based on the 2018 race.
Elevation :
Max Elevation :
Entry opens
Mid October
Website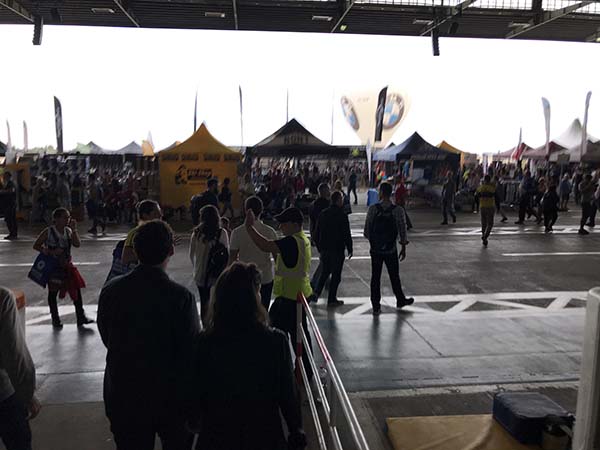 RACE DESCRIPTION - Berlin marathon
Route summary
The Berlin marathon route is a road run within Germany. The loop covers a distance of
42.19 Kms ( 26.22 miles )

and has an elevation gain of

71 m ( 233 feet )

.
Getting In
Qualifying entry into the Berlin marathon is tough with a time of 2:45 expected for males over 45 and 3:20 for females. New time categories have been introduced that allow for over 60 males to get and entry for times under 3:25. The ballot is quite good as the percentage of acceptance is quite high due to the current amount of entries compared to spaces. There are of course various charities available.
Getting there
Berlin is an easy city to get to but the airports can be a bit of a nightmare, especially when leaving. We left from Tegal back to Edinburgh and it probably rates as one of our worst journeys ever, not including those impacted by weather or other events. Cost of taxi into town from Tegal is only around 25 Euros, but there are good public transport links from all the airports.
Expo
We do love a good expo and sadly Berlin is not the best. The venue Temmpoofff is easy to get to on public transport and the old airport building make an impressive venue. If you want to pick up your number and run then the pick-up is as far away as possible from the entrance. Not uncommon we know, but it seemed an awful long way in Berlin.
First barrier is the check of your Start Pass against photo id. That one passed then it's time to join the line for the wrist band. This band is required for getting to the start line so don't be tempted to remove. It's a cloth material and very durable so won't come off accidentally.
So now you have your wrist band and you are off on another hike to the short queue for the start numbers. Flash your wrist band and you are in. This part on a Friday late afternoon was surprisingly easy, up to next available desk, flash the Start Pass and they print out your number along with anything else you ordered. That means you don't need to look for a desk that's specific to your name or number.
From there into the chaos of the official merchandise. When we arrived here at 16:30 on a Friday a lot of the shelves were bare, especially in the medium size range. So you can either pre-order, go to the small merchandise stall after the run or just go to the big Adidas shops in town which will even print your time on the shirt for free. Perhaps you don't want your time on the shirt, but you can always lie.
And so from the official merchandise back the
605 Kms
to the exit trying not to buy stuff you don't really need anyway.
Pre-run
We are sad to say we didn't take part in this event which is a
5 Kms
finishing in the Olympic stadium We have heard great things about this run so might be worth the time if you can fit it in.
Race day
We arrived at the start at 07:45 when out start time was 09:15. That is the first start time, but due to the carol we were in we were a little while before moving. When arriving you can entry via any entrance if you don't have bag drop off. For bag drop off you much enter via one of the designated entrances. Check the maps beforehand, we saw lots of people having an unexpected long walk round the park.
Getting there at 07:45 meant lots of empty toilets and a great chance to stretch out and short run on the start of the route itself. Toilets seemed to start getting busy at the start lines from about 8:15. You are used to that though.
The start line is very impressive, with the Brandenburg gate behind and the Victory tower to the front. The sun will shine, a party atmosphere will ensue, and you will head off to a great
42.2 Kms
.
The route is well supported, lots bands and lots of noise. Water stations litter the route, yes litter as a million plastic cups are discarded and you are left with a near deafening crack of cup under foot.
The course is flat and has seen the world record broken a few times. Not by us we stress, but at least in a race we were in. There are lots of famous sites to see, but take time to study the route beforehand so you know what you are going past. We didn't so had no idea in what direction we were running at any particular point.
Of course this course has the highlight of through the Brandenburgh gate at the end, with the finish line only a few hundred metres on. What we found was that due to all those inflatable arches that they put up, the finsish line seemed a lot further away than our eyes and head were telling us. So you might need to hang in there a bit longer.
The finish
So you are across the finish and keep moving and get that medal, followed by water, fruit and a keep warm blanket. A goodie bag comes later which also includes a bottle of water, fruit, pretzles etc. For those who elected to pick up a poncho the pick up is just before the bag reclaim area and on the left. Easy to miss, so if you get to the beer tent then you have gone to far.
One to watch out for to those with hired timing chips. There are people all over, but poorly signed, with white buckets for the return of the chips. We were told that those buckets were at all exits as well - we only checked one exit and there was one there.
Where to stay
Not sure why we include this section as we only stay in one place. We stayed in the Grand Hyatt which was fab, but pricey. Easy for the start and finish and offers easy access to the park for pre or post-race stretch runs. Almost worth it just for that.
Downside of the hotel apart from price was it was full of 'international travel partner' runners. You know the groups so we will say no more.
Staff in the hotel were great and the rooms/beds/noise level were all excellent.
There are no directions logged for this route. This is normal if the route is a race.

Expo time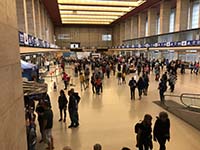 Expo time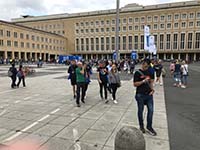 Image from Berlin marathon

Expo time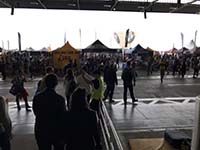 Image from Berlin marathon

Expo time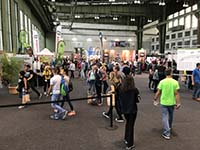 Image from Berlin marathon

Expo time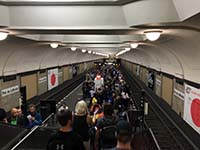 Image from Berlin marathon

Ready to start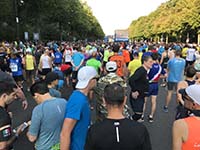 Ready to start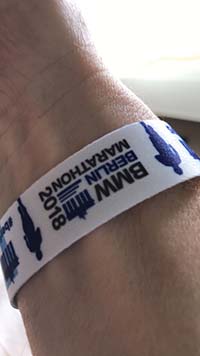 Image from Berlin marathon

Ready to start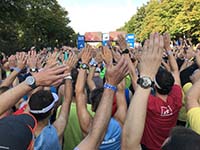 Image from Berlin marathon

Ready to start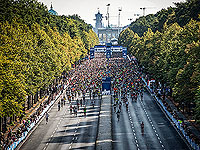 Image from Berlin marathon

Ready to start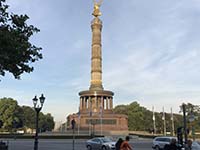 Image from Berlin marathon

The finish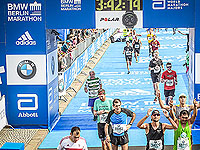 The finish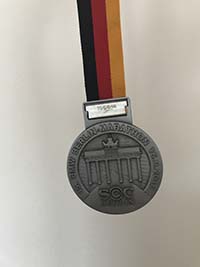 Image from Berlin marathon