Running in Scotland in April
Thinking of a run in Scotland and perhaps beyond in April ? Visit Scotland informs us that you can expect average maximum temperatures to range from approximately 7C (45F) to 13C (55F) during the months of March, April and May.
April is a bit of a poor month in our collection of pictures, partly due to international marathons. However, this can be such a lovely month for a run with cool conditions and the start of spring.
The big marathon during a normal April is the Boston marathon, but don't forget about Paris, Big Sur or London. In Scotland we usually have the Striling marathon in April as well.
Use the full image button to open a larger version of the image (provided on larger screens). Where a route is associated with the image a button link is provided to open the full details.
Loch Doine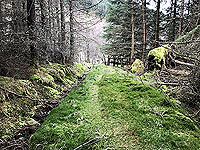 One of our planning failures as we approached the end of the path on the south side of Loch Doine. The map shows a bridge, but there was no way across the stream with steep enbankments on either side. So a nice out and back and still to be documented.
Over the hill from Strathyre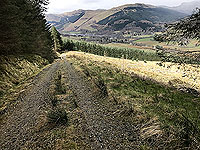 Coming over the hill on the forest road from Strathyre with Balquhidder in the distance. Another one that has still to be documented.
Loch Earn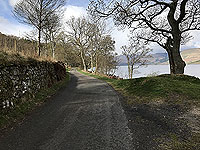 Along the south road at Loch Earn. As most of the traffic is on the road on other side of the loch this is a real nice training route on good quality surfaces.
Uamh Mhor loop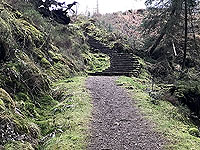 Getting to the top of the hill on the Uamh Mhor loop within the forest. This part is so tranquil.
Overlooking Helensburgh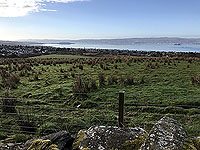 There is more than one run on this site that takes in this particular view. This is looking up the Clyde with the town of Helensburgh shown.
Big sur marathon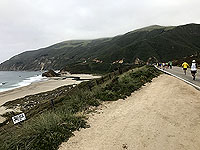 So not in Scotland but in California and what a run for the views. The hills of Scotland make for good training sessions for this run.
Boston marathon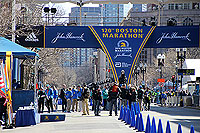 One of the six majors and a tough race to get into. This is a Monday race day taking place on Patriots in the USA. One for the bucket list.
Stirling castle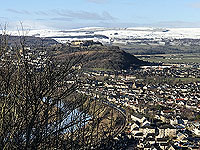 Taken from the Wallace monument this is the view towards the castle. We have run this many time but haven't put it into the site due the short length. Perhaps one day.
Paris marathon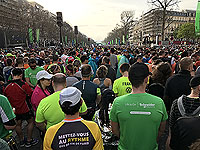 The Paris marathon is a fantastic race and well worth the visit. The start line experience is perhaps one of the best there is.
Stirling marathon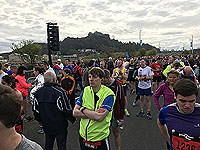 Getting ready for the start of the Stirling marathon. This is not on the site yet as every year the route seems to change.
Cocksburn reservoir loop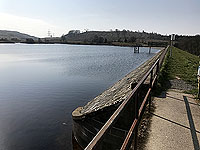 A lovely sunny spring morning for the run around the Cocksburn reservoir.
Sheriffmuir loop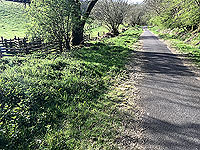 Approaching Bridge of Allan on the Sheriffmuir loop run.